Frank Kelso
Frank Kelso grew up around Kansas City, Missouri, the origin of the Santa Fe Trail. Historic sites, monuments, and statues abound highlighting the journey west, including the Wagons West, Pioneer Women, and the Indian Scout located on the bluffs overlooking the wide Missouri. Writing western themed books fit with his upbringing. His parents considered storytelling a family tradition, and the taller the tale, the better, when sharing around the supper table. A biomedical research scientist in his day job, Frank writes short stories and novels to keep the family traditions alive.
Frank has several of his award winning short stories available on Amazon, which he uses to promote a following for his coming novels, "The Apprenticeship of Nigel Blackthorn" to be released in Fall of 2017 and "A Message to Santa Fe," to be released in Spring of 2018.
A critique group member, John O. Woods and I are co-writing a western adventure series. "California Bound" follows Josh and Zach, two confederate survivors of a Yankee POW Camp. They promised if they survived, they'd go west to find their fortune in the California gold fields. The road to California isn't always a straight line. Look for it Fall of 2017.
Please check my WEB https://frank-kelso.com/ for my other novels and short stories. I offer followers free books and other prizes. Click over to my WEB page to sign-up with your e-mail. While you are clicking, give a "like" to www.facebook.com/AuthorFrankKelso/ If you'd like to browse my books and short stories, or read samples pages, stop by my Amazon Authors page:
https://www.amazon.com/Frank-Kelso/e/B00N990V3A/
Thanks Again.
If you have questions or comments, please contact me: frank@thepossebook.com
---
Lyn Horner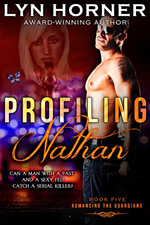 Lyn Horner, California-born and Minnesota-bred, has lived in Texas for over thirty years. She resides in Fort Worth – "Where the West Begins" – with her husband and several very spoiled cats. Trained in the visual arts, Lyn worked as a fashion illustrator and art instructor before she took up writing. She loves crafting passionate, highly emotional love stories, both historical and contemporary. Lyn also enjoys reading, gardening, visiting with family and friends, and cuddling her furry, four-footed children.
Celtic myth and folklore, as well as unusual powers of the mind fascinate Lyn, influencing most of her writing. Recently, she has also become interested in Native American mythology.
The author's Texas Devlins series blends authentic Old West settings, steamy adult romance and psychic mysteries. This series has earned multiple awards and nominations, including Crowned Heart reviews and a Rone Award nomination from InD'Tale Magazine.
Readers can also find short works by Lyn Horner in collaborative western anthologies such as Rawhide 'n Roses. From that book, she has expanded a flash fiction piece into the short story now included in The Posse anthology. A spinoff from her Texas Devlins series is part of the popular Christmas collection Silver Belles and Stetsons, which features more than a dozen novellas by best-selling and award-winning authors.
Branching out into modern times, Lyn is now hard at work on her paranormal-romantic suspense series, Romancing the Gaurdians. These books combine her trademark flashes of psychic phenomena with Irish folklore and a chilling apocalyptic sub-theme. Along the way, readers are treated to thunderous action, terrifying suspense and sizzling romance.
Horner is a member of Romance Writers of America (RWA) and Pen & Pixels, a local Dallas-Fort Worth writers group. All of her books are available on Amazon, most in Kindle and print format. They may also be read for FREE by members of Kindle Unlimited.
Book Description:
Nathan Maguire just wants to make a living inking tattoos, but trouble dogs him. A serial killer is murdering young women in Tampa, near Nate's shop. Latino gangbangers are threatening him. Worst of all, he's a Guardian of Danu charged with protecting an ancient scroll handed down through his family, a dangerous job.
When sexy FBI profiler Talia Werner delivers a message from one of the other Guardians, she turns Nate's life upside down. First, he doesn't trust her, suspecting she wants to steal the scroll. Then, to save her pretty neck, he must help catch the murderer. His deadly psychic gift may come in handy.
Five Star Review
By Craig A. Hart on December 2, 2016
Format: Kindle Edition
Lyn Horner doesn't waste any time getting into the meat of the story with this book. One thing that bothers me about a lot of writers is they take forever to get to the actual story—not an issue here!
I also enjoyed the characters. Nathan Maguire, a psychic tattoo artist, and Talia Werner, a sexy FBI profiler are both larger than life and help move the story along.
The story itself is a good mix of romance and murder mystery, so there's something for everyone! Horner also does a good job of creating some great Florida atmosphere, although early on in the book, I got hungry for a Cuban sandwich and had to stop reading to eat something!
A great read!
Profiling Nathan (Romancing the Guardians, Book Five)
https://www.amazon.com/dp/B01MG3S4ZY
If you have questions or comments, contact me at:
Website: http://lynhorner.com
Facebook: https://www.facebook.com/lyn.horner.author
Twitter: https://twitter.com/LynHornerauthor
Amazon Author Page:
http://www.amazon.com/author/lyn.horner.award-winning.books
---
cj petterson
Author cj petterson is the pen name of Marilyn A. Johnston. An incorrigible wordsmith, Marilyn/cj is published in several genres, from haiku and free verse to non-fiction and fiction to short stories and novels.
As cj petterson, she has written two novels, Deadly Star and Choosing Carter, published by Crimson Romance. Her strong protagonists and supporting characters will take you on a fast journey through stories filled with suspense, action, and sassy dialogue. Her work in progress is about a female private detective. She plans to let sales and reviews decide whether Jake Konnor's story will be a stand-alone novel or the first in a series.
She has served as a judge for Romance Writers of America's Daphne du Maurer contest and is a member of several writing groups, including Mobile Writers Guild, Alabama Conclave, and the Alabama Writers Forum, as well as the international Sisters-in-Crime and their on-line Guppies group.
Born in Texas and retired from a career in the automotive industry in Michigan, Marilyn now lives with her family on Alabama's Gulf Coast.
If you have questions or comments, contact me at: cjpetterson@gmail.com
Links to other books by cj petterson:
Choosing Carter — Kindle / Nook / Kobo / also available on iTunes/iBook
Deadly Star — Kindle / Nook / Kobo
Amazon Central Author Page: http://amzn.to/1NIDKC0
WEB:
Visit author cj petterson at her blog site at www.lyricalpens.com
---
Charlene Raddon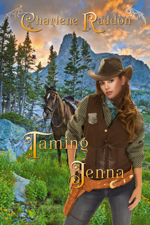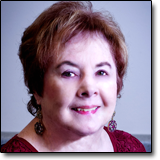 Charlene Raddon began her fiction career in the third grade by telling her class she had a (nonexistent) little sister killed by a black widow spider. Her first serious attempt at writing came in 1980 when she woke from a vivid dream and decided it had to be in a novel. She dug out a portable typewriter, and she's been writing ever since. Her first book was a Golden Heart Finalist published by Kensington in 1994.
All of her full-length books have won or placed in contests and received high reviews. In 2016, she received a "Pioneer" award from Romantic Times Book Club. Even as a child, Charlene believed she'd been born in the wrong time period and truly belonged in the Old West. When not writing, Charlene likes to travel, crochet, read and spoil her grandchildren. She also designs book covers at Silver Sage Book Covers, specializing in historical and western covers.
Links:
http://charleneraddon.com
https://www.amazon.com/Charlene-Raddon/e/B000APG1P8/
https://silversagebookcovers.com
---
Chimp Robertson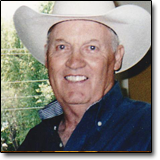 Chimp Robertson is a former rodeo contestant, author, private pilot, artist, auctioneer, rancher, song writer (songs recorded by Chris LeDoux) army veteran, and sky diver. He has had many articles and stories published in various magazines and news papers, and is the author of ten books.
Born and raised in the panhandle town of Dalhart, Texas, he is retired and currently living in Hooker, Oklahoma where he is pumping wells, working at a feedlot, and team roping.
I've had numerous stories, poems, and articles published in news papers and magazines, and have published ten books which include:
Tall Tales and Short Stories: a Robertson family legacy.
I'll Be Seeing You: a battle with cancer.
POW/MIA: America's Missing Men: the men we left behind in Vietnam.
Killin' Time: a collection of short stories.
Mortal Secrets: a mystery novel.
Rodeo Stories: a collection of true cowboy tales. https://www.amazon.com/RODEO-STORIES-Collection-Cowboy-Tales/dp/1496943163/
Rodeo Stories II: A collection of true cowboy tales.
Billy Howard and the Buckskin: a western novel. https://www.amazon.com/Billy-Howard-Buckskin-Chimp-Robertson/dp/1522828761/
Billy Howard and the Palomino: a western novel.
Billy Howard and the Appaloosa: a western novel.
Visit Chimp's Author's Central page:
https://www.amazon.com/Chimp-Robertson/e/B004S7GVRC/
www.chimprobertson.com
---
Charles T. Whipple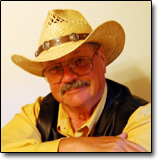 Charles T. Whipple is a native of Arizona who resides in Chiba, Japan. Whipple writes fiction and nonfiction. His articles have appeared in many magazines, including Time, Newsweek, Honolulu magazine, Tokyo Journal, Cruising World, Boating New Zealand, Sport Diver, and more. His nonfiction books include Seeing Japan, Inspired Shapes, and several in Japanese. He writes western novels under the pen name of Chuck Tyrell for Black Horse Westerns, Edition Bärenclau, Piccadilly Publishing, Sundown Press, and contributed short stories to the Express Western anthologies Where Legends Ride and A Fistful of Legends, and Western Fictioneer anthologies.
He is part of the Ford Fargo persona that writes the Wolf Creek series from Western Fictioneers. He has won prizes for both advertising and journalism, and received the first-place Agave Award in the Oaxaca International Literature Competition in 2010. His novel, The Snake Den, won the 2011 Global eBook Award in the western fiction category. Whipple was a lifetime member of the now-defunct National Association for Outlaw and Lawman History. He is a current member of Western Writers of America, Asian-American Journalists Association, Society of Writers, Editors, and Translators (SWET), Tauranga Writers Inc., and, of course, Western Fictioneers. Whipple is married, has one wife, two sons, four daughters, and 19 grandchildren. He is fluent in spoken and written Japanese, and understands many forms of English.
---
JS Stroud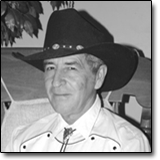 At twenty-six, Sherlene and I became husband and wife and it's been a great life . We have three children , ten grandchildren and now two great- grandchildren. Together we've worked logging timber everywhere from the hot humid swamps of Louisiana to the frozen snow covered mountains of Canada. I write about how it feels to have the cold blade of steel cut through flesh and muscle and how it sounds as it grinds across bone . The sledge hammer like blows from the soft lead of a bullet shattering bone and cartilage seeking to take a life. I write about these things because I have lived through them. I never learned to write in a school or classroom, life has been my teacher, and that is how I write.
Here is a list of Jim's books:
"The Old Rider, Death of an Outlaw"
"Nightmare at Saint Francis"
"When Dragons Wake"
"Nosferatu, Bird of Death"
"Silence of the Drums"
"A Hard Ride"
---
If you have questions or comments, contact me at:
https://www.amazon.com/Return-Silver-Creek-Chuck-Tyrell/dp/1535584106/